Slow Flow, Nidra Meditation & Sound Bath for Inner Peace
March 5 @ 3:30 pm

-

5:30 pm

£22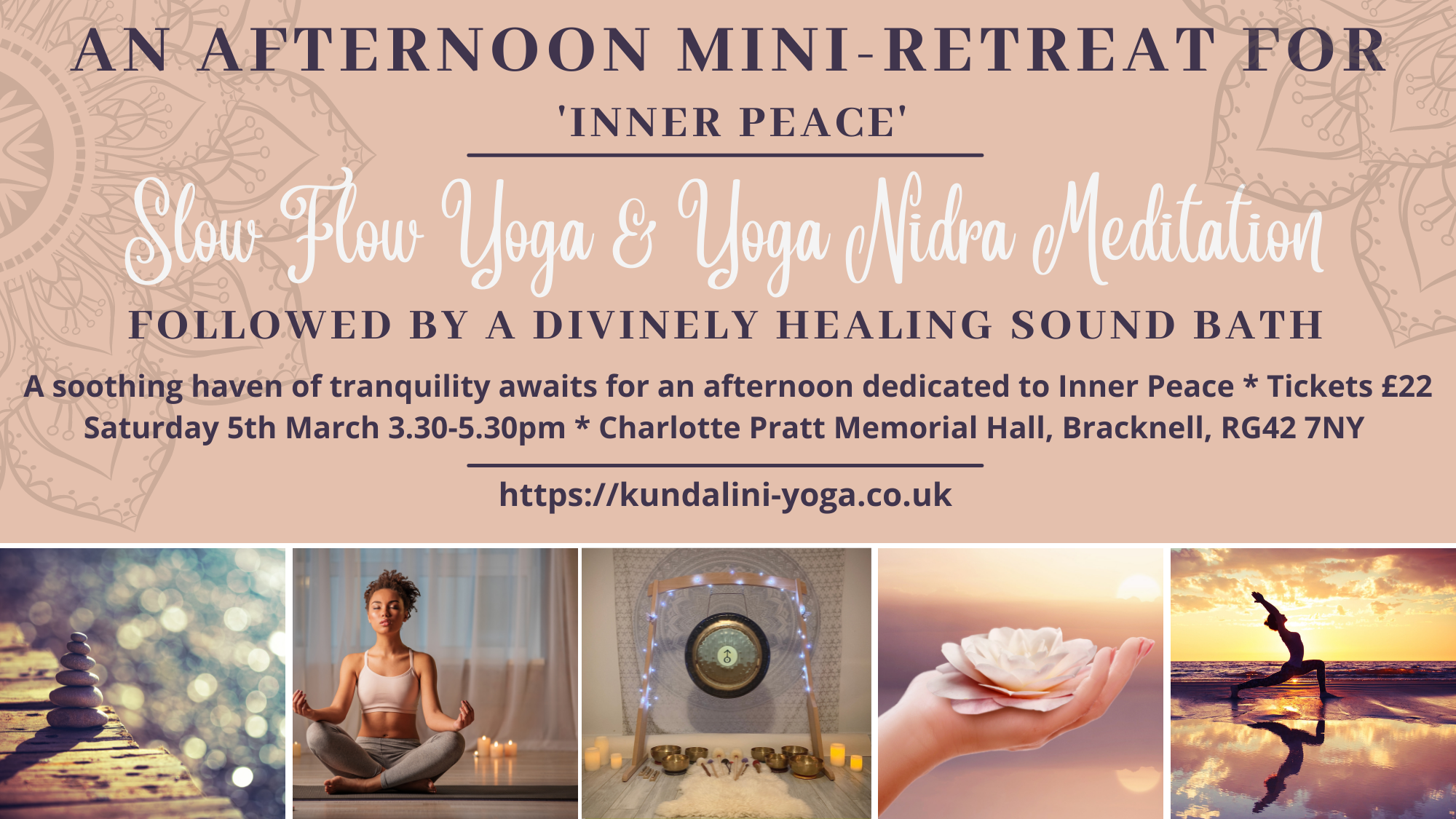 A soothing haven of tranquility awaits you, for an afternoon dedicated to Inner Peace <3.
In a topsy turvey crazy world, we all need to take a little time out for some self care, so why not give yourself the gift of an afternoon of nourishment for mind, body and soul.
"Peace of mind is not the absence of conflict from life, but the ability to cope with it." ~Unknown
This 'mini-retreat' will be beneficial for all levels, and no experience of yoga is required – helping you cultivate serenity and deep sense of peace. Stretch yourself out fully with slow flow sequence of Hatha Yoga, be guided on a journey of tranquility with Yoga Nidra meditation, and then be immersed in the healing frequencies and vibrations of the Gong and Tibetan Singing Bowls. There will be time after the healing Sound Bath, to relax in gentle contemplation; to maybe have a look at some oracle cards, to connect with each other, or take a bit longer to rest peacefully with yourself..
Cultivating Inner Peace is something we could all do with making more of a priority in our lives. Yoga (meaning 'union' of mind, body and breath), helps us really slow down, so we can focus more on 'being', rather than 'doing'.
The practice of yoga helps us to become more 'present' with our body and breath, and along with meditation it helps to bring a deeper connection with our inner selves. The more we give ourselves this space to just 'be', the more we disconnect with the constant internal chatter, and so the more peaceful we become.
"If you are depressed you are living in the past if you are anxious you are living in the future, if you are at peace, you are living in the present." —Lao Tzu
If you are interested in taking an even 'deeper dive' into cultivating inner peace, then you might also like to attend our next Inner Peace Workshop, which will include even more practical tools, techniques and understandings, as well as the nourishment of the deep relaxation this mini-retreat brings, then please let us know so we can add your name to the list for when its ready to go live.